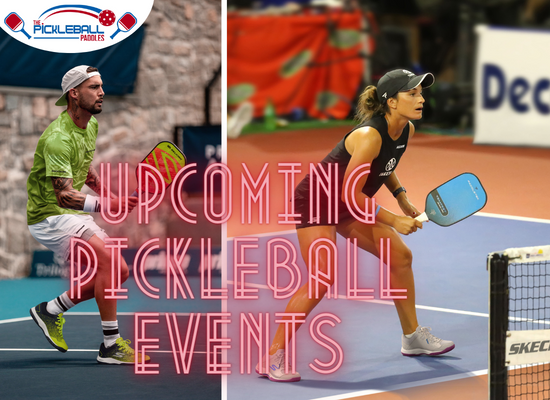 Pickleball events are springing up all over the country and the world, which is not surprising considering that the sport is the one with the fastest national growth. Pickleball players may search for a variety of things in a pickleball competition. The size of the pickleball tournament is one factor that pickleball players may find crucial (which could also tend to correlate with quality). The following are a few of the biggest pickleball competitions held worldwide:
Biggest Pickleball Events:
USA Pickleball National Championships
US Open Pickleball Championships
IFP Bainbridge Cup
USA Pickleball National Championships and Other Pickleball events
The world's greatest pickleball event is held in the USA Pickleball National Championships, which are sponsored by the nation's pickleball governing authority.
The Indian Wells Tennis Garden in Indian Wells, California hosts the USA Pickleball National Championships. This tournament stands for the best pickleball matches, without a doubt.
The USA Pickleball National Championships in 2022 will take place from November 5 to November 13; in strategies to succeed, you must either sign up and be drawn in a lottery or win another pickleball match.
Pre-Registration – Guaranteed Entry:
You must take home a gold medal at one of the following competitions in order to secure your spot at the 2022 USA Pickleball National Championships:
2022 APP Masters (NCS)
2022 APP Phoenix (NCS)
2022 APP New York, NY (NCS)
2022 USAP National Indoor Championships
2022 USAP Newport Beach Championships (NCS)
2022 APP Beer City Open (NCS)
2022 APP Atlanta Open (NCS)
Please be aware that medal winners at any USA Pickleball Regional tournament in 2022 are not required to pre-register.
Lottery – Random Draw:
You can only enter the lottery once to compete in the 2022 USA Pickleball National Championships if you:
win a gold, silver, or bronze trophy at any regional USA Pickleball competition in 2022; or
Win a silver or bronze medal at one of the aforementioned pickleball competitions.
The USA Pickleball Regional competitions will be crucial for securing a berth in the new Diamond Amateur Championship in 2023, with the USA Pickleball National Championships as a goal. Each USA Pickleball Regional tournament's gold and silver medalist will get a pre-registration pass to the Diamond Amateur Championship.
All other competitors in a USA Pickleball Regional competition will be entered into a lottery to determine who will play in the Diamond Amateur Championships. The USA Pickleball National Championships will be pre-registered for by all gold medalists from the Diamond Amateur Championships, and a lottery will be held for all silver and bronze medalists.
See the list below for a comprehensive listing of USA Pickleball Regional competitions and the 2022 National Championship Series:
November 17th-20th: APP World Pickleball Classic (Location TBD)
November 30th-December 4th: APP Casa Grande Open in Casa Grande, Arizona
December 1st-4th: PPA Orlando Cup in Orlando, Florida
December 8th-11th: APP World Pickleball Open in Port St. Lucie, Florida
December 15th-18th: PPA Masters in La Quinta, California
US Open Pickleball Championships:
The US Open Pickleball Championships were first held in 2016 in Naples, Florida. Following that, the US Open Pickleball Championships "changed the game" for pickleball contests, and it continues to improve year after year. In fact, the US Open Pickleball Championships have more than doubled in size since its inception, which may be linked to the competition's joyful atmosphere. The US Open Pickleball Championships should be on your pickleball competition bucket list since it is recognized as a weeklong pickleball spectacle.
IFP Bainbridge Cup
The International Federation of Pickleball (commonly known as the IFP) has organized the Bainbridge Cup since 2017, which is named after the birthplace of pickleball, Bainbridge Island, Washington. The Bainbridge Cup is an international pickleball competition that pits North America against Europe, as pickleball players of all ages and ability levels compete for the Bainbridge Cup (and bragging rights). The dates and venue of the 2022 Bainbridge Cup (a pickleball competition that goes around the world) have yet to be announced.
Local Pickleball Tournaments
In addition to these significant pickleball competitions, there are thousands of other pickleball competitions hosted all around the United States and the rest of the world. These additional pickleball tournaments come in a variety of sizes, from big to tiny, and many of them are held in nearby pickleball communities.
This is how the game of pickleball will continue to grow and prosper. It is imperative that local pickleball competitions receive support. For instance, some of these neighborhood pickleball tournaments are held to raise money for buying more pickleball courts. Look for pickleball competitions in your neighborhood!
How to Sign Up for a Pickleball Tournament
All registration for the major pickleball events is handled by PickleballTournaments.com. You must register through PickleballTournaments.com if you want to participate in one of the above-mentioned big pickleball events. Many additional neighborhood pickleball competitions also utilize this site. PickleballBrackets.com and Pickleball.Global is just a couple of the many websites that host pickleball competitions.
Conclusion
Pickleball competitions may be a good way to practice your court abilities. But playing pickleball competitively in a tournament is significantly different from playing pickleball for fun. Since there may be extra pressure, a lot of starts and stops during the day.
Therefore, if you want to participate in any of these pickleball events. It is crucial to prepare yourself both physically and emotionally. Pickler is on hand to assist! To improve your pickleball abilities and court strategy, check out Pickler's pickleball newsletter, blogs, and online video tutorials.