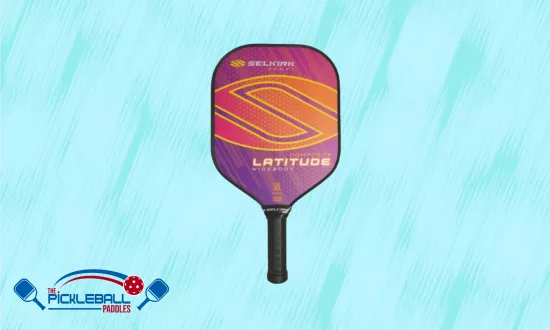 Selkirk Latitude Composite
Next on our reviews of the top Selkirk pickleball paddles is the Selkirk Latitude Composite Pickleball Paddle. This is a less costly leisurely paddle than the AMPED and Prime paddles. This paddle has a wideboy shape and a PowerCore honeycomb core, making it ideal for anybody seeking to enhance their game.
Paddle Face And Specs
The Selkirk Latitude Composite Pickleball Paddle is at the top of Selkirk's casual pickleball paddle range. The Latitude paddle is designed to help you counter an opponent's spin and play strong, controlled pickleball strokes. The Latitude has a 15.5-inch long paddle face and an 8.25-inch wideboy paddle face.
This makes it an excellent paddle for beginners who want a broad striking zone and sweet spot. The Latitude also features a long 5.25′′ handle length, allowing you to play two-handed near the net or from the back of the court. The Latitude's paddle face is constructed of vinyl, thus it lacks the FiberFlex technology seen on the Prime and AMPED versions, but its paddle face finish provides outstanding control. You can't go wrong with the Selkirk Latitude Pickleball Paddle if you're just getting started with pickleball or if you play for enjoyment on a recreational basis.
Selkirk Sports, a leading pickleball paddle maker, debuted their new Latitude Widebody composite paddle in late August. We think this paddle is worth a second look and a comprehensive product evaluation because it may have slipped under your radar.
Performance & Design
We tried out the Selkirk Latitude pickleball paddle for a few weeks and were impressed with its performance balance (power vs. control). Its large breadth made it very effective in dinking and volley fights. Although our demo paddle weighed 6.9 oz, this line has a larger paddle head for better power shots. The paddle grip was long and had a very sticky surface. You may simply add another handle if you like a broader one.
We don't know about you, but we've found that Pickler's value paddle faces graphic designs. It's unclear how significant this factor is, but one thing is certain: no one chooses a pickleball paddle because it's ugly. The Selkirk Latitude pickleball paddle, on the other hand, features a gorgeous design and a variety of vivid colors that are sure to improve both your playing and your on-court appearance.
Key Features:
Ideal for novices, this recreational paddle helps to neutralize spin and offers you greater control.
The wider the paddle face, the bigger the sweet spot and striking zone.
The paddle's long handle length allows two-handed players to utilize it.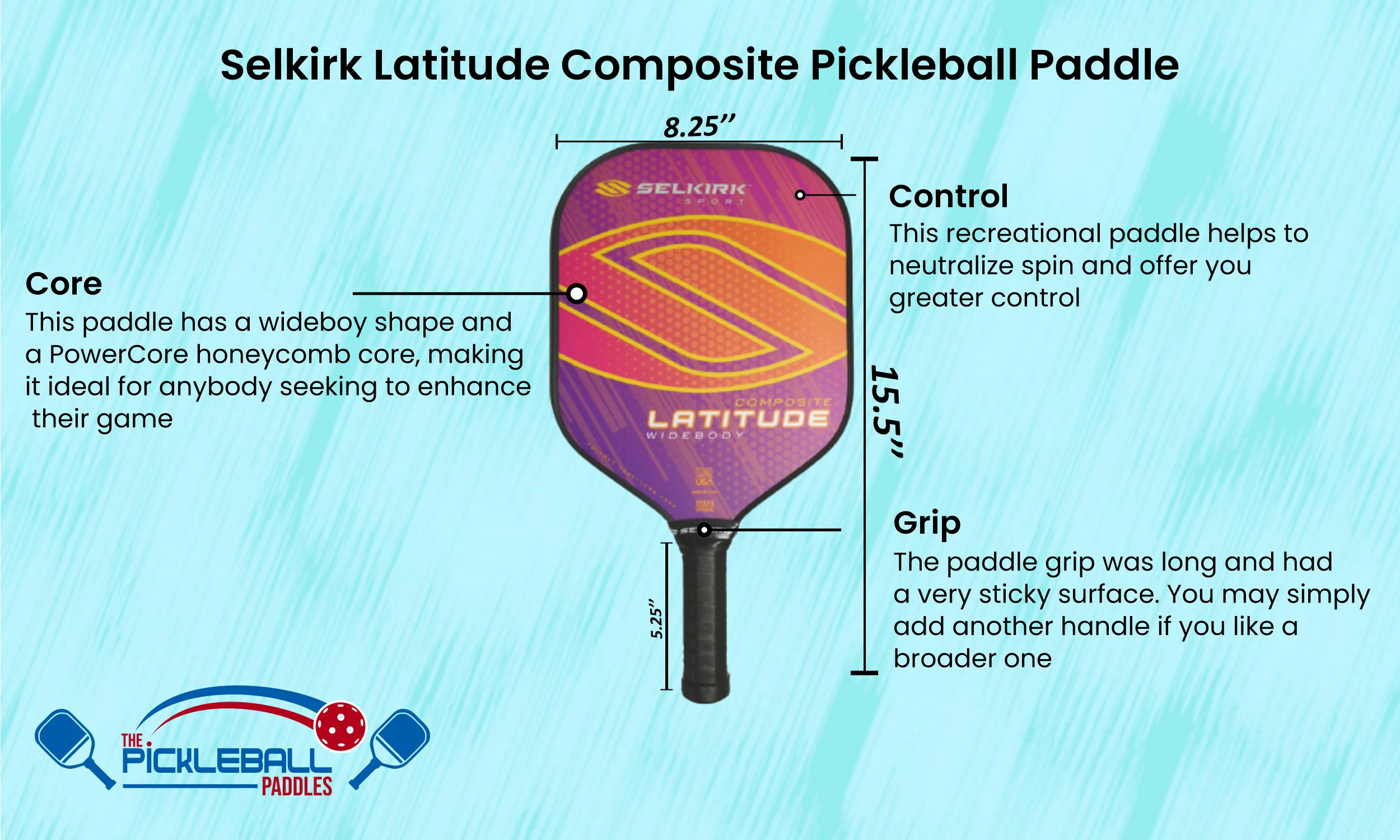 Conclusion
The Latitude Composite Pickleball Paddle provides a large striking surface while being fast. The polymer PowerCore is ideal for absorbing the impact of rapid smashes while still letting you return the ball to its original location. An above-average handle length provides ample space for your hand while also giving exceptional reach. This paddle is designed for players who desire a large sweet spot yet need to react fast at the net.