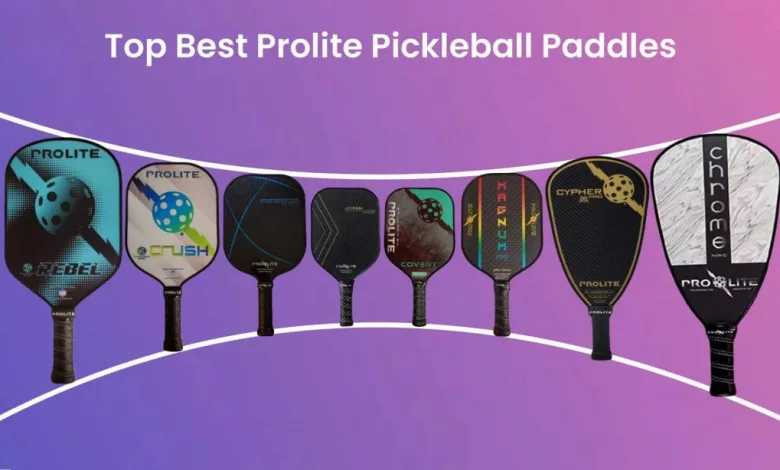 Best Prolite Pickleball Paddles 2022 Review Guide
Looking for a way to improve your pickleball (1) game? Then you should think about investing in a high-quality instrument like Prolite Pickleball Paddles.
Pickleball players optimize two effects: ball control and power. Those are the two most important talents in the game. The majority of these skills are determined by how a paddle is made.
The ProLite brand is one of the most well-known on the market. So, how can you know which one is the best? To aid you with your gear decision, here is a list of the finest ProLite pickleball paddles.
PROLITE pickleball paddles are among the best pickleball paddles available. PROLITE has devoted itself to creating pickleball paddles and equipment that are cutting-edge in terms of innovation, technology, and design since its founding in 1984. When it comes to innovation, PROLITE boldly declares that they are a leader, not a follower, and that thinking outside the box has been crucial to their continuous success since the early 1980s. In the year 2020, PROLITE is one of the country's largest and most well-known pickleball paddle makers.
The new PROLITE Black Diamond series has some of the most cutting-edge pickleball technology, such as a carbon fiber paddle face, PowerGrit surface technology, and a microthin edge guard. The debut of the Black Diamond paddle follows the success of several spectacular paddles that have assisted pickleball champions all around the world.
About The Brand
PROLITE Sports has been producing high-quality pickleball paddles for over three decades, far longer than anybody else. Pickleball paddles were originally hefty wooden paddles based on table tennis paddles when it was first created. PROLITE Sports altered all of that when its creator, Arlen Paronto, a Boeing industrial engineer, saw the enormous lightweight panels used to construct airplanes and had the idea to utilize them to make pickleball paddles in 1984.
The rest is history, as Arlen acquired panels from the Boeing Surplus Store in Kent, Washington. The majority of pickleball paddles are composed of graphite or fiberglass-facing honeycomb sheets that were initially developed for the aerospace sector. With revolutionary new paddle designs and technologies, PROLITE Sports is an industry leader today. PROLITE paddles are well-known among professional pickleball players. Many tournament victors had PROLITE paddles in their hands. PROLITE paddles are unlike any other, with the right balance of touch and power. Pro lite pickleball paddles are liked by the players across globe because of prolite pickleball paddle warranty policy.
We go through all of the finest PROLITE pickleball paddles so you can make an informed choice about which PROLITE paddle is right for you and your game. To get started, go out our selection of the Top best PROLITE pickleball paddles.
Prolite: The most oldget & Trusted Brand for Pickleball Paddles
Pro-Lite Sports has been manufacturing pickleball paddles for almost three decades and is one of the industry's oldest and most well-known brands. Arlen Paranto, the company's original owner, is notable for designing the first composite pickleball paddle and is a member of the Pickleball Hall of Fame.
Since 1984, the firm has been producing pickleball paddles. Pro-Lite is a market leader that continues to transform the industry by bringing innovative paddle technology and innovation.
| | | | | | | | | | | | |
| --- | --- | --- | --- | --- | --- | --- | --- | --- | --- | --- | --- |
| | | | | | | | | | | | |
| | Supernova Black Diamond Pickleball Paddle | | | | | | | | | | |
| | Crush Power Spin Pickleball Paddle | | | | | | | | | | |
| | Cypher Pro Pickleball Paddle | | | | | | | | | | |
| | Chrome N-R-G Pickleball Paddle | | | | | | | | | | |
| | Rebel PowerSpin Pickleball Paddle | | | | | | | | | | |
| | | | | | | | | | | | |
| | | | | | | | | | | | |
| | Magnum Graphite Stealth Spectrum | | | | | | | | | | |
Top Best ProLite Pickleball Paddles
ProLite Supernova Black Diamond Pickleball Paddle

ProLite Crush Power Spin Pickleball Paddle

ProLite Cypher Pro Pickleball Paddle

ProLite Chrome N-R-G Pickleball Paddle

ProLite Rebel PowerSpin Pickleball Paddle

ProLite Covert Pickleball Paddle

ProLite Titan Pickleball Paddle

ProLite Magnum Graphite Stealth Spectrum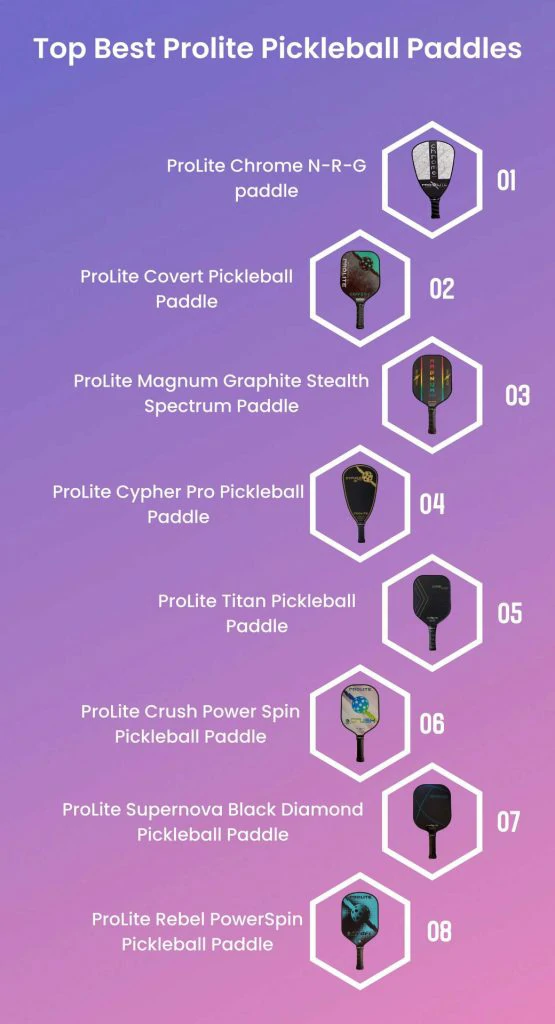 1. ProLite Supernova Black Diamond Pickleball Paddle
ProLite's "Black Diamond" pickleball equipment is a line of pickleball equipment. Some of the most advanced pickleball paddles can be found in this range of devices. The prolite supernova black diamond pickleball paddle is engineered to deliver outstanding overall performance. It's designed for the best possible skill presentation, responsiveness, and power.
Investing in a good paddle is one of the most effective ways to improve your game. The prolite supernova black diamond pickleball paddle is made of high-quality materials and features a structured design for improved gaming. The head is designed to provide a big sweet spot with a low length-to-breadth ratio.
The Prolite supernova black diamond pickleball paddle carbon surface absorbs greater shock from ball impacts. The rough roughness of the cloth also helps to keep the ball in place for longer.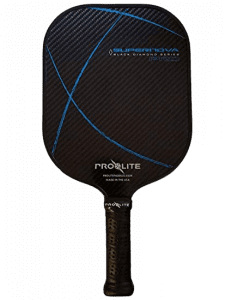 See Amazon Prices See Walmart Prices
The QuadCore polymer on the inside maintains shot force and improves power impacts. Because of their great responsiveness and velocity on the ball, these paddle materials are ideal for spin shots.
The ProLite Supernova is a good value for money, not just in terms of usage but also in terms of longevity. This pickleball bat is made to last with MicroGuard edges. The long grip is additionally cushioned with a soft cushion, making it more comfortable to hold.
The titan pro black diamond series pickleball paddle includes a QuadCore Polymer Honeycomb core, which offers you greater power from the rear of the court than the Magnum paddle. The Titan Pro also comes with PROLITE's most sophisticated grip to date, the PROLITE No Sweat Diamond Grip, which is meant to wick sweat away from your palm no matter how intense the game is.
Choose prolite supernova black diamond pickleball paddle if you want an advanced pickleball paddle that delivers power, control, and precision – it's one of PROLITE's most sophisticated paddles.
2. Prolite Crush Power Spin Pickleball Paddle
Our list of the finest PROLITE pickleball paddles is completed with the PROLITE Crush. The CRUSH PowerSpin has a QuadCore Polymer Honeycomb core and a fiberglass paddle face and is built on the same paddle frame as the Magnum GS. This results in a unique touch and feels that is equally effective on the court.
The PROLITE Crush PowerSpin Pickleball Paddle is ideal for anybody who prefers a paddle with a polymer core and a fiberglass paddle face. The paddle, like the Magnum GS, is large, measuring 15 1/2′′ long with a 7 7/8′′ wide paddle face. The paddle is heavier than the Magnum GS, weighing between 7.6 and 8.2 ounces, but not so much that you can't respond swiftly on the court.
The Crush PowerSpin is designed for players who are serious about pushing the ball quickly and far. This paddle has a variety of characteristics that help it support more force on hits. This paddle, in the hands of a skilled player, is a terrific way to quickly go past opponents.
The ProLite Crush PowerSpin is a pickleball paddle with the SPINTec brand added to it. The goal is to create a power-generating pad surface that also retains the ball, allowing for ball control during skill plays. The composite fiberglass surface contributes significantly to the paddle's responsiveness.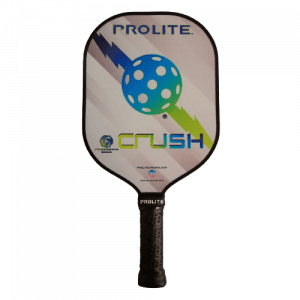 See Amazon Prices See Walmart Prices
The Honeycomb QuadCore polymer inner, which is substantial force retention, is also included in the Crush PowerSpin, as it is in other ProLite products. The Crush paddle's overall shape gives it a terrific boost for players who like to strike hard.
The textured fiberglass paddle face incorporates PowerSpin technology, which assists in gripping the ball and providing spin, control, and precision on the court. Similarly, the QuadCore Polymer Honeycomb core delivers a lot of power when striking any type of pickleball stroke.
The paddle also has PROLITE's SofTac 32 Cushion Grip and a MicroEdge guard to help it stay quick and aerodynamic.
If you enjoy the Magnum but prefer a heavier composite paddle, the PROLITE Crush is the paddle for you.
3. Prolite Cypher Pro Pickleball Paddle
On this list, the Cypher Pro is the final member of the Black Diamond series. It is made of high-quality materials with an emphasis on weight. This device is as light as they come while yet providing power and control.
Because of its pure carbon surface and polymer core, this paddle provides the best ball control of any Black Diamond paddle. Unlike other models, the power is likewise residual but requires a little tweak. Prolite cypher pro pickleball paddle, on the other hand, excels in terms of reach and dynamic play.
Swings benefit greatly from the ProLite Cypher. The head is extended, with an ideal length-to-breadth ratio. This aids in providing the necessary control and spin on all hits.
ProLite has paired its proprietary, top-of-the-line, 100 percent pure carbon fiber face material with the longest paddle form for the newest edition to the Black Diamond Series. It is the most powerful and well-controlled paddle available.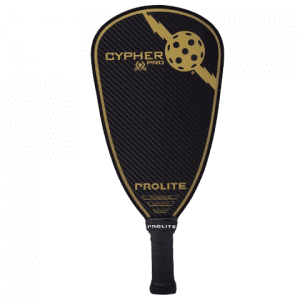 See Amazon Prices See Walmart Prices
No other "long" paddle on the market has the extended form developed to increase the sweet spot, making it even bigger than the competitors. Even the strongest hit by your opponent is dampened by ProLite's proprietary and better carbon fiber material, which dampens the impact and vibration.
The Cypher Pro's distinctive form was designed with POWER in mind! It boasts greater TORQUE than any other paddle in pickleball, resulting in increased head speed as a result of ball contact.
At the point of impact, a paddle with higher torque squares the paddle face. Straighter shots occur from being square at impact. You will notice a significant change.
4. Prolite Chrome N-R-G Pickleball Paddle
The Chrome N-R-G is a standard ProLite paddle with excellent characteristics for beginners and intermediates. It has a composite surface that is extremely responsive, as well as a polymer core that provides power and support.
You can count on a great ball reaction with the Chrome N-R-G. This paddle is used to make swing shots. The extended head reaches more space, and the lightweight design makes shoots simpler.
Fast-paced games are supported by the materials chosen for the core and surface. This indicates that the ball is struck swiftly and with sufficient force to go in the intended direction. Ball control is also good on the composite surface.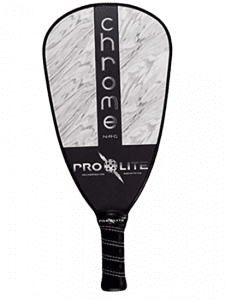 See Amazon Prices See Walmart Prices
Until recently, no long paddle on the market had a designed form that increased the sweet spot. For you singles players or power hitters. Its QuadCore polymer honeycomb core offers an unrivaled smackdown.
Chrome's elongated, teardrop form is ideal for carrying its powerful, forgiving sweet spot throughout the paddle's greatest surface area. Its heavy, head-weight momentum requires that the ball come off the paddle harder and quicker on those baseline groundstrokes, that is until you slow things down. Soft game players will love the featherlike control provided by the gel-coated, triple-layer fiberglass paddle face during dink rallies and inside-out strokes.
During soft play, the ball stays on the paddle a little longer for more controlled, intentional placing. We've covered all the bases with this one.
5. Prolite Rebel Power Spin Pickleball Paddle
The Rebel PowerSpin, as the name implies, is a paddle built for maximum spin power. This pad is created in such a manner that it provides strength to any impact. In pickleball, power is just as important as precise strokes like spin.
The PROLITE Rebel Powerspin Composite Pickleball Paddle has long been a fan favorite, and it's the next paddle in our list of the top PROLITE pickleball paddles. Check out the Rebel Powerspin if you're searching for a paddle that generates power and extends your reach on the court.
The Rebel Powerspin Composite Pickleball Paddle is a versatile paddle that can be used for a variety of pickleball styles. The paddle has a Textured Fiberglass paddle face and Powerspin technology built-in. The paddle's core is a QuadCore Polymer Honeycomb, which works in tandem with the fiberglass face to provide a variety of benefits. To begin with, the Rebel Powerspin's polymer core provides plenty of power.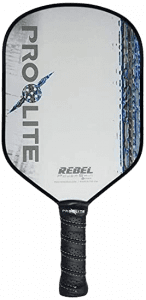 See Amazon Prices See Walmart Prices
The technology employed in the Rebel PowerSpin's design is its selling feature. The PowerSpin technology balances the inherent force of composite facing strokes with precise ball control. You may make a spin shot with a modest stroke of the ball with this paddle; it seems natural.
While the spin provides a technological benefit, the honeycomb polymer core is accountable for the required power. The PowerSpin technology's combination of ball retention and accuracy enables more precise technical strokes.
The handle of the ProLite Rebel Powerspin paddle is also natural. With a large head that allows for longer reach, the grip is strong and comfortable on the palm. With a normal weight of about 8.2 ounces, the entire design is also extremely robust.
Similarly, the Power spin technology incorporated into the paddle face helps you hold the ball on the paddle face for longer, giving you more spin and control. Furthermore, the fiberglass face provides a wonderful feel on the court, while the polymer core helps to absorb impact and lets you place shots correctly.
The Rebel Powerspin is 16 inches long and weighs between 7.9 and 8.3 ounces. The broad striking surface and 5′′ paddle handle provide you a longer reach and surface area to make outstanding contacts with the ball.
Use the Rebe Powerspin if you're searching for a fantastic all-around pickleball paddle with plenty of reach and power.
6. Prolite Covert Pickleball Paddle
Another good composite-surface pickleball paddle is the Prolite covert pickleball paddle. Here's a cheap model from ProLite that meets the same high standards as the rest of the line. With a big pad head, this device is designed to provide maximum ball control.
The Covert pickleball paddle offers the same power and shock resistance as other ProLite paddles. This device also features a Honeycomb QuadCore polymer inner. This is used to give shots greater power and as a foundation for finesse shots.
The Prolite covert pickleball paddle's large head area is beneficial for reaching the ball more easily. This also implies that there is greater room to hit the ball, resulting in improved ball control. The pad's robust construction ensures that it will last a long time.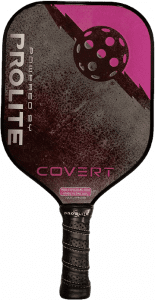 See Amazon Prices See Walmart Prices
With every smash, the Covert blackPaddle has cutting-edge designed graphics that allow for great spin and control. PROLITE has designed a paddle with SPINtac technology that helps hold pickleball and sends them spiraling away from the competition. This paddle also features an unusually broad body, which creates a large sweet spot and makes the impact feel sensitive while yet being controlled.
The Covert Paddle weighs 7.9 – 8.2 ounces and has a 5″ handle length with a medium grip. Its polymer core helps to deflect vibration away from your hands and uniformly throughout the paddle's body, making it suitable for usage in noise-restricted areas.
A pickleball with a lightning bolt is depicted in the top right corner of the paddle's face, with the paddle's name written at the bottom.
The adaptable shape and strong core of the Covert Paddle will sneak up on your opponents and have you throwing balls away before they even realize what struck them!
7. Prolite Titan Pickleball Paddle
The Black Diamond product line now has a second member. In terms of ease of use and paddle responsiveness, the ProLite Titan is a marvel. The pad combines energetic and skilled motions with a premium carbon surface and a polymer inner core.
The Titan Pro paddle is a high-end ProLite product with some of the finest on-court dynamics. With this pad, you can easily create technical shots. The carbon surface holds the ball in place long enough for it to spin in the correct direction.
Shots using the QuadCore inner compartment have higher power. The Prolite Titan is ideal for expert players who need lightweight pads and have wrist strength to push the ball as needed. It is, nevertheless, a fantastic option for casual gamers. It gives your skill movements more elegance.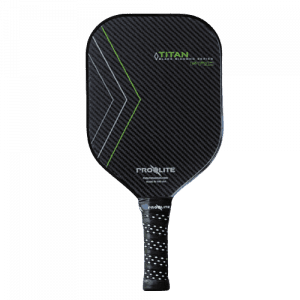 See Amazon Prices See Walmart Prices
The Prolite titan pro pickleball paddle features a big head with a diagonal of around 7 inches. The grip is made of an anti-sweating diamond-clad substance to back this up. When playing on-court, this helps the paddle seem more natural and less slippery.
Prolite titan pickleball paddle was PROLITE's most technologically sophisticated paddle ever, and it was a genuine labor of love. The Titan Pro is a wonderful alternative if you're looking for a top-of-the-line medium-weight paddle.
The PROLITE Titan Pro is a heavy middleweight pickleball paddle, weighing between 7.7 and 8.2 ounces. Furthermore, the paddle face is 7 13/16′′ wide, providing a big sweet spot and striking area with which to control the ball. The paddle face of the Titan Pro is composed of carbon fiber, which helps to spread impact throughout the paddle face, minimizing pressure on your elbows and joints. Furthermore, the paddle face works to provide you with incredible control, touch, and feel.
The Titan Pro includes a QuadCore Polymer Honeycomb core, which offers you greater power from the rear of the court than the Magnum paddle. The Titan Pro also comes with PROLITE's most sophisticated grip to date, the PROLITE No Sweat Diamond Grip, which is meant to wick sweat away from your palm no matter how intense the game is.
Choose the PROLITE Titan Pro if you want a sophisticated pickleball paddle that delivers power, control, and precision. It is one of PROLITE's most advanced paddles.
The pickleball paddle PROLITE Magnum Graphite Spectrum is one of the tops in our PROLITE range. The Magnum GS is a fantastic sports paddle that wants to rule the pickleball world. It is constructed as a lightweight paddle which gives an enormous punch and optimal network management.
A lightweight paddle weighing 6.5–6.8 oz. The PROLITE Magnum Graphite Stealth paddle, However, when you swing the Magnum GS, the high-grade Nomex Honeycomb and Graphite-Textured face have an immense 'pop' and powerful impact.
The Magnum GS is equipped with PROLITE's MicroEdge Guard and PROLITE Contour Grip, making it both comfortable to play and aerodynamic while swinging quickly. These characteristics combine to create a paddle that is lightning fast around the court, precise in soft play, and super-responsive for amazing ball control the PROLITE Magnum GS is one of the best-balanced paddles money can buy.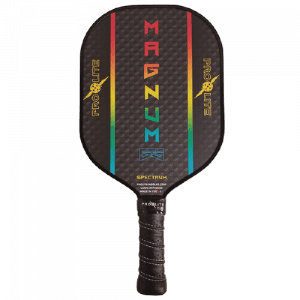 See Amazon Prices See Walmart Prices
The Magnum GS is a wonderful option for you if you want to play with speed and precision, especially in tight play as a strategic player. The Graphite-Textured face provides spin, control, and pop, while the Nomex core provides the necessary power.
You'll notice something exceptional about a Magnum the moment you pick it up. The weight distribution, grip size, and proportions appear to be excellent. And once you've mastered the swing, you'll have enough power and elegance for soft netplay. This one is very unique, with features that have made it one of the most successful paddles in the world.
The Magnum Graphite Stealth has a lightweight, responsive graphite carbon fiber face for high-impact strokes and ball control. It has a wide sweet spot in the middle and a longer grip, making it ideal for tennis to pickleball conversions. It's the most well-balanced paddle available!
Reasons Why You Should Choose ProLite Paddles Over Others
One of the reasons why Pro-Lite Pickleball paddles are so popular across the world is because they are unlike any other paddle on the market. Mr. Arlen Paranto, the original designer of these paddles, wanted them to stand out from the crowd and be a cut above the rest. Today, it produces the most sophisticated and creative paddles, which are ideal for players of all types. Their finest pickleball paddles include: Prolite rockstar pickleball paddle, Prolite magnum graphite stealth, prolite crush pickleball paddle, Magnum graphite stealth pickleball paddle and countless other best Prolite pickleball paddles.
The following are some of the reasons why you should pick these paddles for your game:
Carbon fiber hitting surface
Power Grit surface technology
Tampered edge technology
Innovative grip and handles
Pickleball paddle end cap
Carbon Fiber Hitting Surface
Pro-black lite's diamond series is made of carbon fiber, which does not absorb but rather distributes energy. As a result, these paddles maintain tremendous control and have the option to reset the opponent's stroke. Although they seem rigid at contact, the carbon fiber striking surface of these paddles generates very little friction. These paddles have incredible endurance; even when the carbon hairs tear, they generate a more uniform spin on the ball, increasing the toughness of the game.
Power Grit Surface Technology
In the Pickleball paddle business, Pro-Lite was the first to introduce the Power grit surface technology. While its competitors struggle to add additional roughness to the surface of their paddles, Pro-Lite pioneered surface NRG technology. These paddles' power grit surface increases the amount of roughness allowed in the paddles by extending the grit throughout the whole length of the paddle, including the sweet spot.
The spin, power, and feel of the paddle are all improved by a rough surface with a tiny grit texture that runs the length of the paddle. These paddles also feature strong deflection and ball-absorption characteristics, and the inclusion of a poly-carbonate layer aids in improved performance.
The edge guard is the most significant feature of a paddle since it improves the sweet spot while also protecting it against more aggressive play. After the first time of play, a cheap edge protector aids in paddle scraping and chipping off. As a result, Pro-Lite has developed a low-profile tampered edge control technology to preserve the paddle while also providing a strong weight distribution strategy for the required power and control.
As a result, the new generation of Pro-Lite paddles has a refined edge with a sleek and polished appearance. They also aid in the protection of the paddles' inner and exterior structure, ensuring correct balance and weight distribution.
Innovative Grip And Handles
To manufacture excellent handles, Pro-Lite employs a unique method. Its handles are constructed of low-density polyethylene, which has been designed to operate at any level. The handles are also made with cutting-edge rib technology, which means they won't break down like standard foam or balsa handles. These hands are also anti-microbial and pleasant to hold.
Pickleball Paddle End Cap
All of Pro-paddles Lite's taper to a flush tight end cap. These end pieces are designed to work in tandem with the handle. It assists players by reducing the discomfort of paddle caps digging into their palms because it is a Pickleball exclusive end cap.
Prolite Pickleball Paddles Buying Guide
PROLITE pickleball paddles include some of the most advanced and cutting-edge technologies available in the pickleball business. It has stepped up its game with the Black Diamond series, introducing fresh and revolutionary paddle face and core technology to the game. Now that we've gone through the finest PROLITE paddles, let's go over everything else you need to know before purchasing your new PROLITE paddle.
Prolite Carbon Fiber Technology
PROLITE has included carbon fiber into their new Black Diamond series to provide the greatest paddle face technology. The paddle faces are made entirely of carbon fiber and are excellent at absorbing energy. In reality, rather than focusing the pressure on one area of the paddle face, the carbon fibers dissipate energy throughout the fiber structure, distributing the force uniformly over the paddle. When you're playing shots on the court, you won't feel any shock or vibrations in the paddle because of this. This carbon fiber construction also protects your joints from impact and lowers the risk of tennis elbow.
Another wonderful feature of the PROLITE's carbon fiber paddle face is that it absorbs the sting of hard opponent play. When the ball is launched at the paddle, the carbon fiber absorbs the ball's speed, allowing you to manage your return with finesse. The carbon-fiber construction also grips the ball and keeps it on the paddle for longer, so if you want to spin and roll, this is the paddle for you. Don't be fooled: when you want to smash the ball hard, the PROLITE paddle face will buffer stress while simultaneously transferring energy into the ball, giving you more power on the court.
Prolite PowerGrit Technology
The newest PROLITE pickleball paddles also include PowerGrit Surface Technology, which is a wonderful feature. This indicates that the paddle face has a rough grit that rests softly within it. The grit is added throughout the production process by PROLITE to give the paddle face a gritty feel, which helps you gain even more control over the pickleball. To begin with, the PowerGrit technology will provide you with more shock absorption at contact, as well as increased deflection and spin while putting your strokes.
Prolite MicroGuard Technology
The introduction of MicroGuard Technology is the next amazing breakthrough in the newest PROLITE paddles. The MicroGuard is a thin edge guard that shields the paddle from hard court surfaces and miss-hits. Your paddle will be more robust and long-lasting as a result of this. If you've found that your paddles are breaking down too soon, or that the edge-guards on your paddles are cracking or breaking, then PROLITE is the paddle for you. The MicroGuard was created to withstand severe impacts on any surface, including the court.
How To Choose A Pickleball Paddle?
ProLite (2) is the go-to name for excellent gameplay gears and is perhaps the top and most popular gear brand in Pickleball. They feature a large range of tried and true goods that are utilized by both professionals and beginners.
ProLite's Pickleball paddle line delivers excellent value for money in every style. You have a paddle for anything you want to take advantage of in your game. To assist you in making a selection, let's look at the differentiating aspects for the various goods.
Structure And Weight
Pickleball pads have two distinguishing features: their exterior construction and their weight. These qualities can tell you how you'll perform. Pads that are lighter and broader allow for more dynamic motions, while heavier pads give greater force.
The paddle is roughly 15 – 16 inches long on average. A quarter-inch difference in paddle responsiveness may make a big difference. The weight of the paddles is likewise exactly proportionate to their length, ranging between 7 and 8 ounces.
Core
Pickleball gaming materials' underlying make-up is critical to their reactivity. Nomex, plastics, and aluminum are among the materials utilized. There are different levels of stress absorption and weight augmentation in these.
Aluminum cores are the lightest, Nomex choices are the heaviest, and polymers are in the middle. Polymer cores are used in premium ProLite paddles, allowing for improved ball use. The rougher the surface, the better the shock absorption.
The lighter core paddles have a lower power output, but they are more suited to expert ball handling. Denser cores are more focused on power. With materials like polymer, though, you get a good mix of expertise and force. It has a strong shock absorption capacity, which can enhance rebound.
Surface
Graphite/carbon and composite are two popular surface materials. Rougher graphite surfaces are common on ProLite paddles, which is fantastic for game dynamics. ProLite's carbon fiber surface is a noteworthy breakthrough in this sector. Carbon is the only material utilized for this. As a result, it's a great shock absorber.
The surface fiber absorbs the energy and distributes it uniformly throughout the pad. Shock and vibrations are reduced as a result of this. This makes you feel more comfortable while maintaining the responsiveness of the ball and your complete control during play. The ball lingers on the pad for a few longer milliseconds, giving you more time and space to respond to strokes.
Durability
Paddles' longevity is mostly determined by the contouring and coatings they have. Edges, curves, cushioning, and the surface must all be meticulously crafted. During smashes or mis-hits, these locations absorb the brunt of the pressures.
In this sense, ProLite paddles are well-equipped. Pickleball pads in this product range include a functioning edge guard thanks to MicroGuard's revolutionary technology. The technology is comprised of high-tensile-strength materials that are good for ball control and help ProLite paddles endure a long time.
FAQS
How many points are in pickleball?
Games are played to 11 points, with a 2-point win margin. Each match consists of two best-of-three games, with game three being played to a maximum of five points with a two-point win margin.
How much do pickleball paddles cost?
The price is heavily influenced by the material used to construct the paddle. Pickleball paddles made of wood range in price from $15 to $35. You will pay between $40 and $100 for composite pickleball paddles. Graphite pickleball paddles range in price from $90 to $200.
Where are prolite pickleball paddles made?
PROLITE is a family-owned company run by President and CEO Neil Friedenberg, a 5.0 player himself. Pickleball paddles and other items are made in Milwaukee, Wisconsin, along the gorgeous beaches of Lake Michigan.
Conclusion
The pickleball paddle is more crucial than any other piece of equipment. Your bat influences how the ball reacts to hits, how powerful your strokes are, and how much spin the ball has.
ProLite offers a wide range of excellent goods, particularly paddles. Whatever the case may be, the Supernova Black Diamond paddle is an outstanding blend of all the desirable characteristics in pickleball paddles. It features responsiveness, power, and ball control, as well as a comfortable grip. This is a purchase you will not be sorry for.
As a result, the Pro-Lite Pickleball paddles' mission is to develop and manufacture the greatest paddles possible for the game. Every part of these paddles has been meticulously developed so that players may feel confident in their abilities and obtain a competitive advantage over their opponents. Choose Pro-Lite paddles for your game, and you'll benefit from a more controlled and powerful variety of shots.