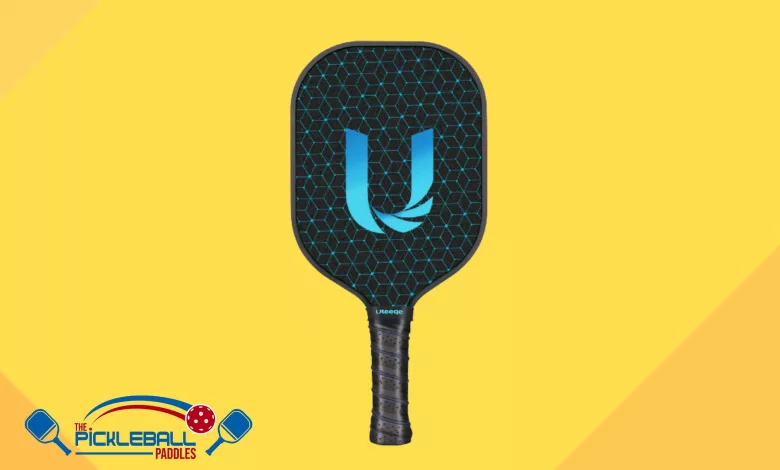 Introduction:
There's always a way to improve your pickleball game, no matter what your skill level is! Usually, this entails altering your technique or style, but it might also entail purchasing a new paddle. If you're looking for the latter, we've got the Uteeqe U1 pickleball paddle specifically for you.
This flexible paddle is our third-best pick from our post on the 5 Best Graphite Pickleball Paddles, so it's a great option for anybody searching for a graphite paddle. Do you need a refresher on what makes graphite paddles so unique? For additional information, check out our Pickleball Paddle Ultimate Guide.
A graphite paddle may be precisely what you need if you enjoy dominating your opponent with strength-focused strikes. Are you ready to find out why we think this paddle is so special? Let's get started!
Uteeqe U1 Semi Rough Texture Surface Spin Control
Some paddles have power, while others have control, and Uteeqe has both. This paddle is designed with proprietary polymer technology and a premium graphite face to increase balance and performance. When you utilize the Uteeqe pickleball paddle, your game will soar to such heights that you'll never use another paddle again!
Lightweight, well-balanced, and texturized for a maximum spin When you swing the well-balanced Uteeqe pickleball paddle, you'll feel quicker than ever, due to its lightweight design for quick response time at the net. Plus, the unique rough-textured surface, which also has a big sweet spot for better impact, backs up your power with unmatched spin.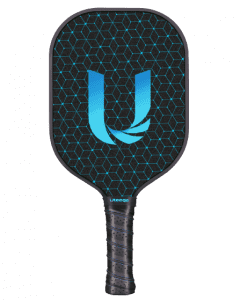 See Amazon Prices See Walmart Prices
Its thin edge provides a large surface area and is tolerant of mishits. In addition, the handle's bottom has a unique shape that looks beautiful and provides additional protection.
Specification
Weight Average: 7.8 ounces
Weight Range: 7.8 ounces
Grip Circumference: 4 1/4″ Actual grip sizes may vary up to 1/8″.
Grip Style: cushion, perforated
Grip Length: 5″
Paddle Length: 15 7/8″
Paddle Width: 7 7/8″
Paddle Face: Graphite
Core Material: Polymer honeycomb
Edge Guard: Thin-line overlapping edge
Editor's Note: I really enjoyed the strength on this paddle; whether it was the feel or the sound, but the ball came off extremely cleanly with a lot of "pop." Because this is a polymer core/nomex paddle, expect a more substantial feeling paddle with a somewhat audible sound when you hit it.
Overall, this is an excellent pick-up-and-play paddle. One thing I didn't mention much is the great weight it has. It weighs around 7.8oz, putting it on the lighter end of the entry-level paddle spectrum. This implies that if you don't have as much arm strength, this paddle can be preferable for you.
Pros Endorsement: James Ignatowich
Uteeqe U1 Pickleball Paddle — Overview
We'll go over everything that makes the Uteeqe U1 pickleball paddle such a great graphite paddle, including its face, surface area, weight, core, and grip, in this review. These elements all contribute to a paddle's overall performance, so you'll want to consider each of them carefully.
The greatest graphite paddles are those that can produce powerful shots while staying light in the player's hand. This is an example of a paddle that excels in this area. Let's take a closer look at its characteristics!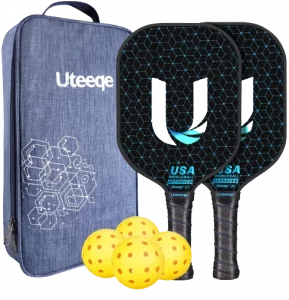 See Amazon Prices See Walmart Prices
The Face
This paddle includes a very sensitive graphite side which, as we have already proven, enables hits to rebound consistently and precisely.
It also has a textured facial, which facilitates the removal of spin techniques.
A rough surface is critical when you attempt to spin as the paddle has to "bite" for a split second to spin instead of bouncing off like a constant strike.
The Surface Area
This paddle, in addition to having a textured face, offers a large surface area on which to perform spin techniques. It has a length of 15 7/8 inches and a width of 7 7/8 inches.
Although it isn't the widest paddle on the market, the Uteeqe U1 provides players with
A large sweet spot on the face, allowing them to practice controlled and powerful shots.
The Weight
Paddles made of graphite are recognized for their strength while being light. This paddle is 7.8 ounces in weight. This places it in the medium-weight pickleball paddle category. It has exactly the correct amount of weight for forceful blows while remaining light enough for easy mobility, in our opinion.
The Grip Size and Feel
The face and weight of the paddle aren't the only factors that determine whether a paddle is good or bad. It should also be comfortable in your hand. The grip of the Uteeqe U1 is 5 inches long and has a standard circumference of 4.25 inches. It's padded, with raised contouring that makes it easy to guide your fingertips and absorbs sweat.
Because the 4.25-inch diameter is typical, most individuals find it comfortable.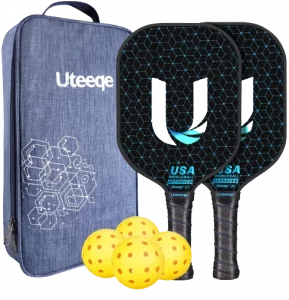 See Amazon Prices See Walmart Prices
The Core
The core of this paddle claims to provide "both Nomex and aluminum advantages in one unstoppable bundle." This simply implies that the core combines the controllability of aluminum with the responsiveness of Nomex, thanks to a unique honeycombed and polymer-orientated design.
It also implies a huge sweet spot, as we discussed before, so you can rest certain that even novices will be able to regularly hit solid shots with the help of this unique core.
[i2pc show_title="false" title="Pros & Cons" show_button="false" pros_title="Pros" cons_title="Cons" heading_pros_icon="icon icon-thumbs-up" heading_cons_icon="icon icon-thumbs-down" ][i2pros]The graphite face is light but strong.
The face has a rough texture that is ideal for spinning.
The grip is both pleasant and curved.
a big sweet place
Paddle edge guard for extra protection.[/i2pros][i2cons]If you want a little extra surface area, the grip might be a little longer.[/i2cons][/i2pc]
Conclusion
Let's sum up everything we've discussed in our Uteeqe U1 pickleball paddle review. It has all of the qualities you look for in a great paddle: power, spin, and low weight. That's why it's even more impressive that this product comes in a two-pack, complete with two pickleball!
As a result, the Uteeqe U1's pricing, as well as the value you get from the paddle's performance, is a compelling argument to consider. Furthermore, each paddle has a lovely geometric, minimalist pattern on the front.