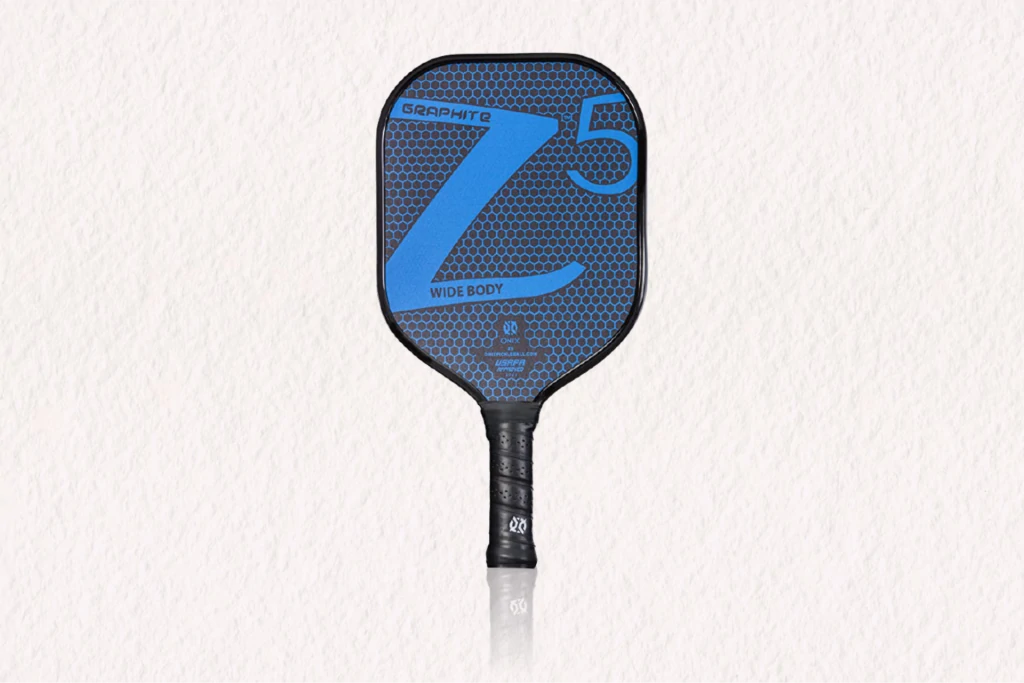 Introduction
Pickleball has seen the launch of several fantastic paddles over the years. There are some who are well-known, and those who are legendary in stature. Best Pickleball paddle like the Onix Z5 Graphite Pickleball Paddle is extremely popular and well-liked by players all over the world including me.
The Onix Z5 Graphite Pickleball Paddle is one of the best pickleball paddles on the market that I could find, and it can be found in the hands of pickleball players all over the world. Tyler Loong, a professional pickleball player, is the most well-known name associated with the Onix z5 Graphite.
One of the best features of the Onix Z5 is that it's the ideal pickleball paddle for anyone from beginners to experienced players.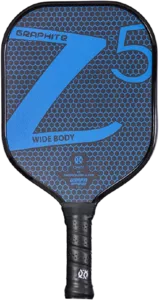 See Amazon Prices See Walmart Prices
The Design:
I am a huge admirer of this design. I can easily connect with the ball thanks to the big sweet spot and huge space. Connecting with an incoming shot will never be a problem for you, whether you're a beginner or an experienced player. When you swing hard, the centre helps produce power and pop. Read more about the best pickleball paddles for advanced players
The weight and feel of this paddle are by far my favourite features. Despite the fact that the z5 Graphite is a lightweight-midweight, it aids in power shots. It's like a well-designed computer, with each component complementing the others.
The Shape:
In contrast to newer elongated form paddles, the Onix Z5 has a traditional widebody. The latest paddle shape increases my flexibility in shots and has greatly influenced new paddle manufacturers. The widebody paddle is still used by Onix, and the same structure has been incorporated into its new line of paddles.
Despite the fact that elongated paddles have become common, many pros still prefer the simplicity of the old widebody paddles. For beginners, the broad face has a wider sweet spot and a harder surface that makes it easier to bind.
The Weight
The Onix z5 Graphite is a well-balanced paddle, weighing 7.8 oz. It's neither light nor heavy for me, which makes it incredibly manoeuvrable. Depending on the paddle you pick and the grips you add, the average paddle weight will range from 7.5 to 8.1 ounces. Overall, the Onix z5 Graphite paddle is made to provide you with a well-balanced gaming experience.
Onix Z5 Face
The widebody face of the Onix z5 Graphite is important for pickleball players, particularly beginners. It provides me with a broad sweet spot, which facilitates the relationship. Onix Pickleball Z5 has a graphite face for the core which I like the most. Experts recommend graphite pickleball paddles to players because they offer a great pop-off the paddle while remaining lightweight.
Length & Width
The Onix z5 Graphite, with a length of 15.5", is the most common pickleball paddle length. Pickleball paddles are usually this length around the surface. When it comes to thickness, though, the Onix Z5 has an 8.3" width, which is significantly larger than the standard 8" width paddles.
Grip & Handling
The grip is very comfortable for me and I also liked the handling. The grip size of the Onix z5 graphite pickleball paddle is 4-1/4", which fits perfectly in my hands. It's the perfect size because it doesn't have too much hand space, which can lead to sloppy shots. Furthermore, this paddle comes with a cushioned handle for added comfort.
Onix Z5 Core
The core material of the Onix z5 Graphite pickleball paddle is well-rounded. It has a Nomex paper honeycomb core with cutting-edge technology that allows you to hit powerful shots with ease.
Onix Z5 Paddle Touch
Due to its cardboard-like appearance, the Nomex core may be stronger and noisier, but it also offers a generous feeling. Despite the similarity in touch between the two face materials, the graphite face was chosen as the gentler of the two Z5 Paddle alternatives because it is softer and more forgiving. The Z5 Pickleball paddle is renowned for its power/focus over touch and is just 11 mm thick.
Z5 Graphite Paddle Power
The Z5 Graphite Paddle's Nomex core ensures that it has enough power regardless of whether you select the graphite or composite face. One of the original core materials used in pickleball paddles is Nomex. Nomex is a strong and resilient core that is made of a substance that resembles cardboard and is then coated in resin to increase lifespan. Furthermore, it has the loudest core of all! The weight of both the graphite and composite paddles delivers lots of pop in addition to the Nomex core's well-known responsiveness. The Onix Z5 offers a model that will match your game, whether you can create the majority of your own power and opt for a lighter paddle or you need a boost and go for a heavier paddle.
Onix Z5 Graphite Paddle – Play Style
Pure power

Interesting face

Simple and effective face

Popping Nature

Feedback on Every Shot

Colors & Variety
1. Pure power
The Onix z5 paddle is made of Nomex honeycomb, which is basically a carboard-like substance dipped in resin. The surface is hard but light, allowing it to stay steady and produce a lot of power when playing.
2. Interesting face
Since Nomex is a fire-resistant material, it is also used to make firefighting helmets. Nomex, on the other hand, is recognised for its excellent power generation in pickleball. When you combine strength and precision with a big sweet spot, you have a dangerous mix.
3. Simple and effective face
Start your pickleball journey with a composite or graphite paddle, according to experts. Paddles made of lightweight graphite allow for a great deal of mobility and manoeuvrability. The combination of its face, height, and heart creates a clear recipe for success on the court.
4. Popping Nature
The oomph factor of graphite paddles can be heard as a distinct "popping" sound. Despite being a lightweight paddle, the Onix z5 graphite paddle has a graphite face that allows it to produce pop. The force is absorbed by most pickleball paddles as soon as the shot connects with your paddle. The ball bounces right off the face of the Onix z5, absorbing very little force and allowing players to strike hard.
5. Feedback on Every Shot
The feedback that beginner pickleball player receives from their paddle is one of the things that can help them progress quickly. This is one area where the Onix Z5 really shines! You can tell right away whether you strike the ball slightly off the sweet spot and change accordingly. During a game of pickleball, you'll notice yourself adapting to the paddle and stepping up your game.
6. Colors & Variety
The colours available on Onix and Gamma pickleball paddles (link) are one of my favourites. There are literally hundreds of colours to choose from. It's not that having options has any bearing on your results, but it's always nice to have them. Onix z5 graphite comes in a variety of colours, including green, blue, pink, orange, white, yellow, and purple.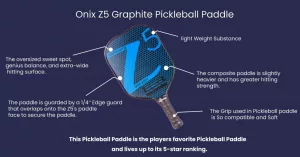 See Amazon Prices See Walmart Prices
Conclusion:
The Onix Z5 graphite pickleball paddle is ideal for you to use. This pickleball paddle is used by all levels of pickleball players, from beginners to experts. The Onix z5 graphite is my top recommendation for beginners looking to get started with pickleball. Alternatively, if you prefer to hit powerful shots while maintaining leverage of where the ball goes, the Onix z5 graphite paddle is an excellent addition to your arsenal. Read more about the best pickleball paddles under $100.