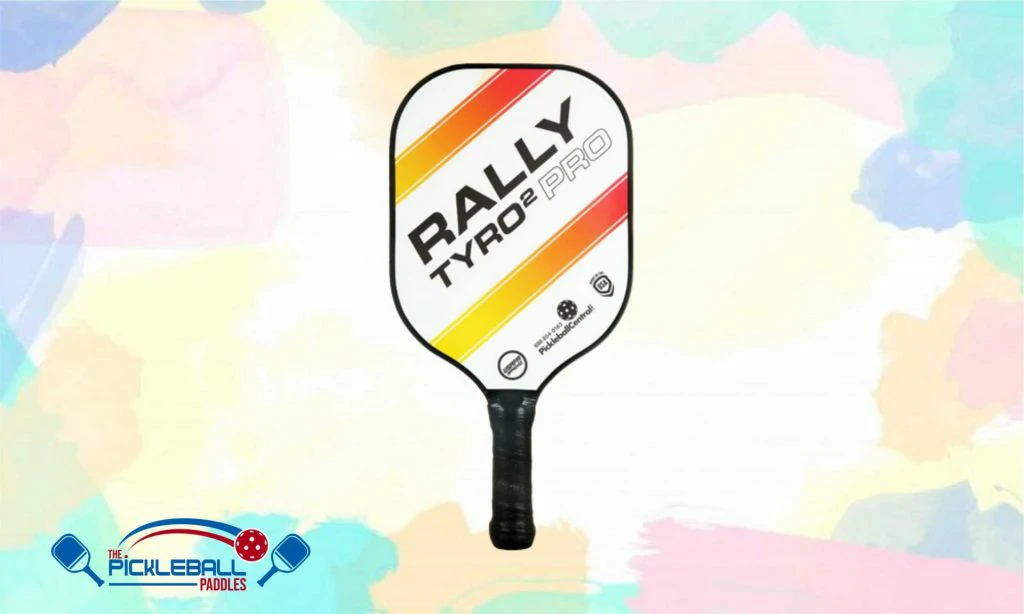 Introduction:
In contrast to the Selkirk S2 X5, the Rally Tyro 2 Pro Pickleball Paddle is on my Rally best pickleball paddle list for the exact opposite reason. The Rally Tyro 2 Pro is less than $60, unlike the other paddles on our list. As a result, it's one of the greatest pickleball paddles on the market that I have used for the money. Furthermore, several elite players claim that it performs similarly to a paddle costing between $80 and $100.
The Tyro 2 Pro features a shock-absorbing polymer core that provides me with excellent court control. If you're always facing guys who prefer to hit the ball hard, the Tyro 2 Pro is an excellent paddle to use to counteract this strategy. The paddle lets you defend against powerful hitters while also providing ping off the paddle, which sends balls back to your opponent in a way that makes them nervous. Read More about the best pickleball paddles under $100.
The Rally Tyro 2 Pro is an amazing value for money at around $60. The paddle operates like a paddle twice its price and comes in two great color combinations: fire (orange/yellow) and ocean (blue/green). If you're searching for a paddle that's both economical and effective, we're confident you'll enjoy this one.
See Amazon Prices See Walmart Prices
Head
The head has a very typical design with a thick shock wrap around the outside. I like a thinner wrap since it can get in the way of some strikes at the paddle's edge, but some people want it thicker. The texture of the paddle appeals to me. It has a more matte texture, and it seems as though you make solid touch with the ball at all times. I also enjoy how the face finish is consistent, giving the impression that the ball would come off the same no matter where you hit it.
Handle
This handle is well-made and has a beautiful form. Also, the pre-installed grip is pleasant to the touch, but I am confident you may adjust it to your liking. I've seen issues with the handles on several paddles in this price range, but that doesn't appear to be an issue here.
I've seen some folks re-grip the handle to give their paddle a more personalized feel, but I think the standard handle is great for regular use.
Paddle Weight
This paddle is 6.7 ounces in weight, which is considerably below the lightweight limit for paddles. The weight of each pickleball paddle is the determining element in the paddle's feel. Greater control and other advantages come with a better sense of touch. The lightweight design of this paddle also helps my maneuverability and wrist movement speed.
While heavier paddles provide more power, lightweight paddles like this one provide more control. A golfer with great control and feel may more readily place their shots and regulate their precision.
This enables for more expertly placed shots and helps new players grasp how to regulate their paddle's touch with the ball.
Grip Of Paddle
When buying a paddle, pay attention to the grips since an ill-fitting grip will negatively affect your game and your hands.
You can always add overgrip or tape to your paddle's grip, no matter what size grip you pick. For this reason, the Rally Tyro 2 paddle's grip is intended to allow for the addition of an overgrip.
Grip sizes range from 4 to 4 12 inches in diameter. For the typical player, this makes the Rally Tyro 2 paddle the smallest.
This grip size is ideal for players who are under 5 feet 2 inches tall.
Smaller grips, like lower-weight options, allow me for more wrist movement to create more power since grip sizing promotes control throughout the game.
With more wrist motion, I create more spin on my strokes. The grip is also 5 inches long, making it suitable for the average hand. Those who want a thicker grip may easily install an overgrip to increase the circumference to their liking. With a mild tack and flat design, the grip gives me a no-slip feel.
Beginner's Paddle
The Rally Tyro 2 is not suitable for tournament play as a beginner's paddle since it does not meet the tournament paddle standards and limits. To compete in competitions, a player will need to find a different paddle as they progress.
This paddle, on the other hand, will provide beginners with a great start and will last a long time thanks to its exceptional durability. For newbies to the sport, control and power are the two most important traits to have to win a game. Because of the degree of control afforded by the paddle, players can better acclimatize to the new sport and learn to regulate and position their shots.
The disadvantage is that the paddle will be unable to generate large quantities of power for longer, faster-executing shots.
Instead, a pickleball player must generate force to propel the ball ahead. For individuals who are not yet accustomed to the sport's motions and physical demands, this can be a challenge.
Perks Of This Paddle:
Excellent value for money.
Hits are consistently strong, and the grip has a pleasant feel to it.
The steady spinning of the ball is made possible by the even face texture.
See Amazon Prices See Walmart Prices
Conclusion:
Altogether, we had a lot of fun with this paddle and believe it would be a good first paddle or an upgrade from your existing one for a beginner or advanced paddle. It isn't very hefty, but neither is it very light. We can assume that if you play all day, your wrist will start to feel a little fatigued from the weight.
The face and contacts seem to be reliable, and the little shock guard allowed me to hit practically every shot we wanted. We liked the texture and thought it would allow us to spin whichever ball We chose in any direction with little difference between hits. It's a fantastic option for both beginners and experts. It's worth a shot. Take a risk.