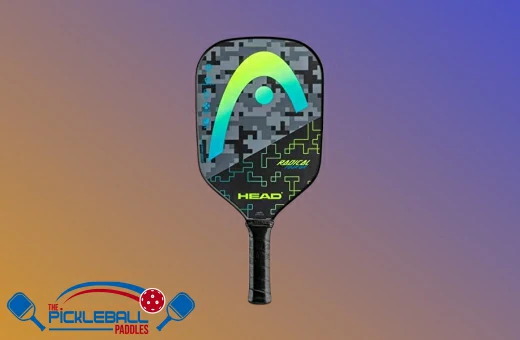 Introduction:
As I continue my list of the best Head pickleball paddles, I feature the Radical Tour GR Pickleball Paddle. The Radical Tour Graphite (GR) and Radical Tour CO paddles are new additions to Head Pickleball's Radical range. However, in this article, I will discuss Radical Tour Graphite.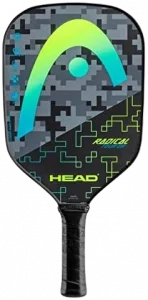 The dynamic, round power design of the Head Radical Tour GR Pickleball Paddle is tapered for an enhanced, raised sweet spot. The larger head size offers a lot of power potential. The lightweight graphite striking surface is dynamic, producing exceptional pop while keeping incredible touch.
HEAD experts devised the improved Tubular Construction of the polymer honeycomb core to produce optimal playability and soft feel. The Extreme Tour's face is textured, providing a stronger ball bite for enhanced spin and control.
In comparison to the rest of the Head Radical pickleball range, the Tour pickleball paddle is outstanding. On the Radical Tour, I found a graphite-hitting surface that gave me a nice mix between power and control.
Length & Control
For the Head Radical Tour GR, the graphite and carbon face truly stands out in the control category. When making net shots, the paddle's feedback helps me maintain control since I can feel the ball settling into the paddle's face as I make my dinks. Head Radical Tour GR Pickleball Paddle seems to have been specifically designed for control players who wish to speed up their play a bit. The feel of the shots off of all various portions of the paddle face is quite consistent, and it seems to reduce my mishits.
In addition, the paddle has a thicker hitting surface, which minimizes vibration and puts you in control.
The Radical Tour Classic Graphite Pickleball Paddle is a long (the paddle length is 16 inches), durable paddle that will allow you to play at lightning pace. You'll discover how swiftly pickleball reacts thanks to the carbon/graphite face as you leave opponents in the dust.
Speed:
If "Need for Speed" paddle, the Head Radical Tour is "Most Wanted." If you choose strength and speed over control and grace, Radical Tour is for you! The tour paddles are intended for advanced level pickleball players. Given its features and polymer core and graphite front, this paddle is a value at its present price range. Players must respond quickly in fast-paced situations. For me the spin of this paddle has been really good.
My shots were not accurate due to the superb carbon graphite surface; they were FLASH. After hitting the sweet spot, the ball is ready to fly. The Extroversion Tour, as well as the Radical Tour, are two of the most popular tours in the world.
For whom is this paddle intended?
This paddle will be especially appreciated by players who want a very rigid foundation in their hands and who want all of their hand speed to be transmitted to the ball upon impact. The Radical Tour GR is still intended for players who prefer the sensation of a rapid overhead but want a bit more feel near the net.
Key Features:
Weight Average: 7.9 ounces.
Grip Circumference: 4 1/4″ (Medium)
Grip Style: Comfort Grip.
Grip Length: 5"
Paddle Length: 16"
Paddle Width: 7 7/8"
Paddle Face: Fiberglass.
Core Material: Polymer Honeycomb.
Editor's Note: Customer feedback on this paddle:
"After gaining experience with lower-cost paddles, I decided to "upgrade" and see what it could accomplish. This paddle is quite beneficial to me! My shooting accuracy has greatly improved!"
Pro Endorsement: Andrew Felsenthal
Conclusion:
Choose the Head Radical Tour graphite pickleball if you want a pickleball that has it all. In addition to its excellent performance, the Ergo Grip provides increased comfort while reducing paddle vibration.
The Radical Tour Classic Graphite Pickleball Paddle weighs between 7.8 and 8.2 ounces and features a 5-inch blade "large grip with lots of space for your hand A gradient orange and blue backdrop is interspersed with black lines in this design. On top of it, there's a white HEAD logo. The grip is medium in size and is lined with EVA foam for further comfort. This gives improved shock absorption and feel.
The Radical Tour Classic Graphite Pickleball Paddle allows you to take advantage of every point-winning chance.